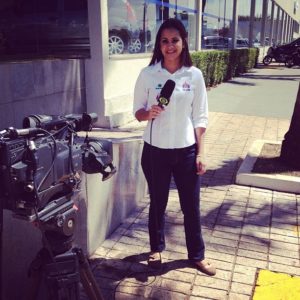 Hello!
I am originally from Brazil, but I fell in love with Canada and chose Ottawa to be my second home. Words have always been my passion. It is not a coincidence that I was invited to give speeches in every graduation ceremony I have had in my life since I started to read!
My professional experience writing has let me wear many hats. I am a journalist, content creator, social media specialist, producer and video editor who knows how to work behind and in front of the cameras. I have worked on numerous broadcast projects for a variety of media and I hold a master's degree in journalism and a diploma in broadcast television/videography. As a journalist I have freelanced for BBC Brazil, Globo Internacional and CBC Ottawa.
As part of her previous experience I have worked as a reporter for Omni Television, covering the news for the Canadian Portuguese community. I have also spent two years with CTV Toronto, devoting my work to the research and archives department.
In Brazil, Bárbara I have worked as a news reporter for TV Clube Band, in the state of São Paulo, and Rede Minas, a public broadcaster.
In addition to the work in my home country, I have maintained links to the Canadian journalist network, including an interview with Marcia Macmillan, for CTV News channel, as an international reporter covering Brazilian current events.
In the past three years I have been working mostly with marketing, creating video content, writing for social media and the web.
This blog is my way to share some great memories of my life as a journalist and also my journey as a content creator.