About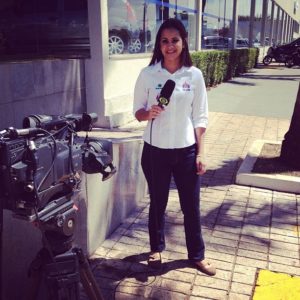 A Brazilian journalist currently operating in Canada, Bárbara is a  producer, content reator, social media specialist and editor who knows how to work behind and in front of the cameras. She has worked on numerous broadcast projects for a variety of media and holds a master's degree in journalism from Carleton University in Canada, a bachelor's degree in journalism from Centro Universitário Newton Paiva, in Brazil, and has a diploma in broadcast television/videography from Humber College in Toronto.
She is a freelance Journalist who has freelanced for BBC Brazil, Globo Internacional and CBC Ottawa.
As part of her previous experience she has worked as a reporter for Omni Television, covering the news for the Canadian Portuguese community. She also spent two years with CTV Toronto, devoting her work to the research and archives department. While there she served as on the network's research team for the 2011 federal election, the royal wedding and several stories for CTV's flagship national news program.
In Brazil, Bárbara worked as a news reporter for TV Clube Band, in the state of São Paulo, and Rede Minas, a public broadcaster. She has covered Brazilian presidential elections, the 2014 World Cup, the 2016 Olympics, political protests and the H1N1 epidemic in Brazil.
In addition to her work in her home country, she has maintained links to the Canadian journalist network, including an interview with Marcia Macmillan, for CTV News channel, as an international reporter covering Brazilian current events.
Bárbara also served as the editor-in-chief of Brazil News, a community newspaper in Toronto and has written for Oi Canadá, a Toronto-based online publication aimed at Brazilian readers.